| | |
| --- | --- |
| Siberian Husky SC | |
Page 1 of 3
TO THE SIBERIAN HUSKY PAGE IN SOUTH CAROLINA!

SIBERIAN HUSKY BREEDER IN SOUTH CAROLINA
We place Siberian husky in loving homes throughout USA and CANADA.
~STOP~READ FIRST~
We are not disposable!
Please make sure you have
the love, time,
patience
& money to take care of us!
Our Siberian Husky top quality and absolutely gorgeous. We have been working diligently for the past few years in order to improve the quality of our siberians huskies pups. Most of our Siberian Huskies have beautiful striking blue eyes. You may also find that our siberian Husky come in a vast array of colors, including solid white, red/white, silver/white, black/white, gray/white, copper, agouti, piebald, & sable. We have wooly coat & short haired siberian husky puppies. Though beauty is important temperament!
Recipe for a great Siberian husky puppy!!!!
Take one siberian husky pup, gently roll and play until lightly pampered,
then add the following ingredients.....
1 cup patience....
1 cup understanding....
1 pinch correction....
1 cup hard work....
2 cups praise and 1-1/2 cups fun ...
blend well.
Heat with warmth of your heart until
raised or until siberian husky puppy has doubled in size.
Mix with owner until consistency is
such that owner and siberian husky puppy are one.

A lot of time is put into our siberian huskys pup before they are sent to their new parents. We thoroughly enjoy watching the siberian huskys puppies grow. Seeing the happiness and joy it brings to their new parents life makes it all worthwhile. My desire is to place our beautiful Siberian Huskies babies in their new parents hands with pride and joy in my heart.
By the time you come after your Siberian Husky it has been dewormed at 2, 4, 6 weeks & every two weeks. UTD with shots (Distemper, Parvovirus, Adenovirus 2, & Para influenza).
**Remaining balance will need to be paid in cash at time of pick up you siberian huksy. If you need shipping you can pay the $450 plus the remaining balance for the siberian husky puppy by sending us a check, money gram or western union.
Click here to see the benefits of spaying and neutering...

---
This Siberian husky Kennel is located in Campobello South Carolina about 20 minutes from Spartanburg South Carolina & 40 min. from Greenville South Carolina!
The Kennel where we keep our huskies has been inspected by AKC. You can check out the AKC Kennel Check Report at the following links: AKC Check Report Page 1 & AKC Check Report Page 2. Please take a minute to check the report & ensure for yourself that our huskies are well treated!
---
Before you decide to take a puppy home, our Siberian husky Puppies have a special message for you..
"We are forever dogs.
We are not "until you get bored with us" dogs.
We are not "until you find a girlfriend/boyfriend" dogs.
We are not "until we get old" dogs.
We are not "until you have to move" dogs.
We are not "until you get a new puppy" dogs.
We are forever dogs, and if you can't promise us forever, then we are not your dogs!"
I will personally fly with your puppy...
*For a $40 fee I can now microchip your siberian husky puppy when it leaves! Please let me know if you would like us to do this. Microchipping is crucial to prove ownership of your dog in the event they are lost or stolen.*


Siberian husky Puppies are sold with AKC limited reg. papers which signifies they are sold as pet only! If you would like breeding rights it's $200.00 additional (full reg.)

These Siberian Husky puppies will come with the following:
1) AKC Limited Registration Papers
2 ) Vaccination & Deworming Record (UTD on shots & deworming)
3) 4 Generation Pedigree
4) Lifetime Genetic Guarantee
5) Puppy Food Package (Diamond Puppy)
6) Harness, leash, blanket, and toy
~Mom Perla~ ~Dad Aquiles~

These precious siberian husky puppies were born June 21 2014. They are ready for a new caring home now!! They can be shipped in 2-4 business days after we recieve the full amount.
#7 Name: Pegy Gray/White Siberian Husky Wooly coat Female
(Parti-eyes; one green and half blue half green eye) $450
She weighed 12 lbs on 8/29/14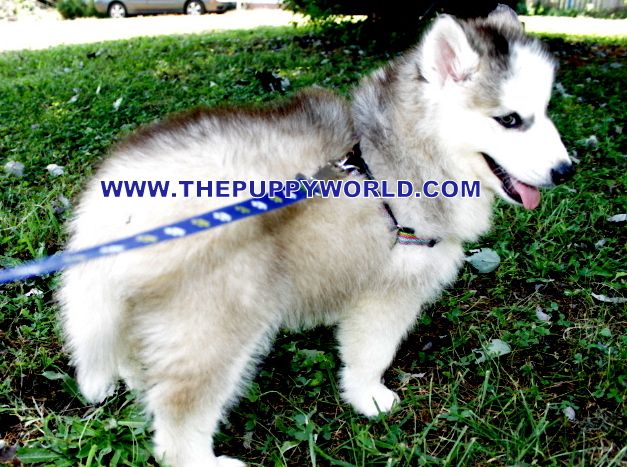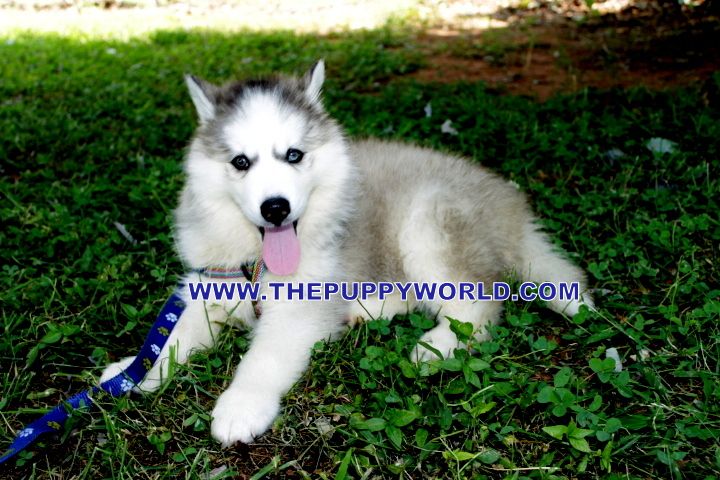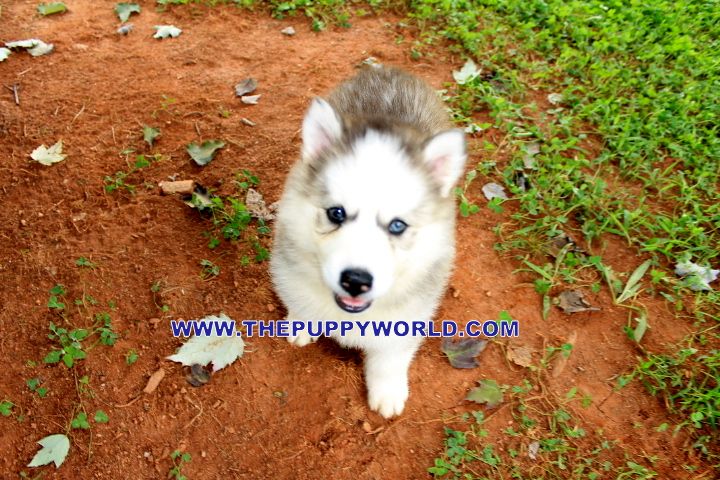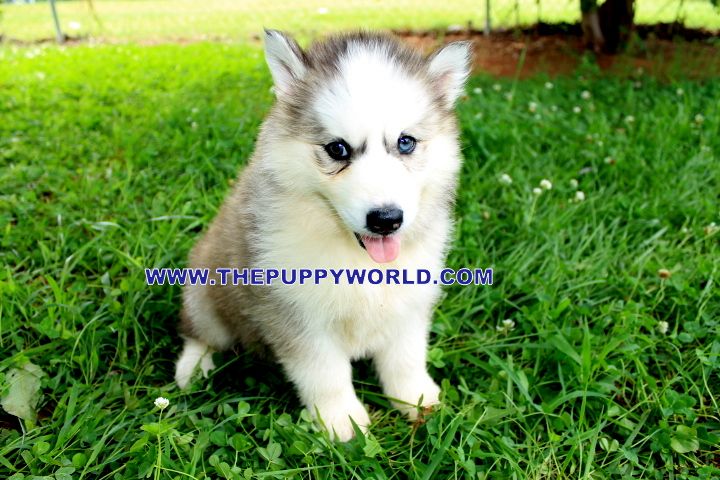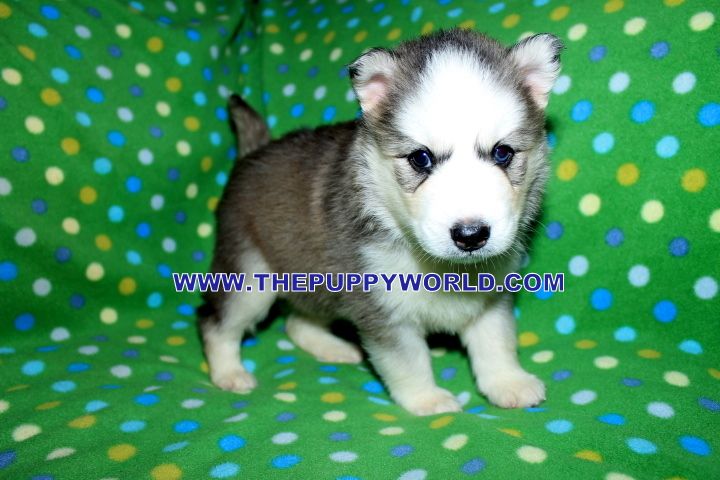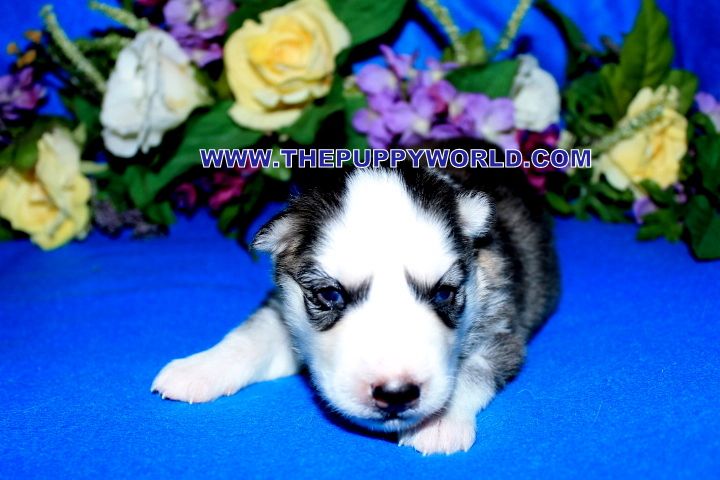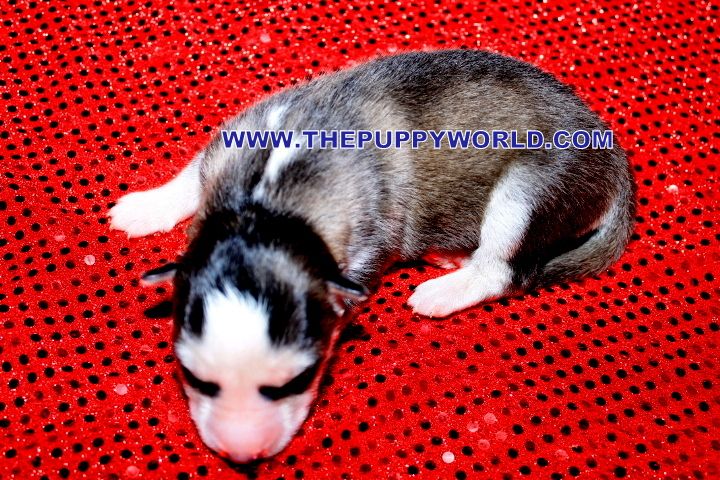 #8 Name: Pilar Black/White Siberian Husky Female
(Bi-eyes; one blue and one brown eye) $500
She weighed 12 lbs on 8/29/14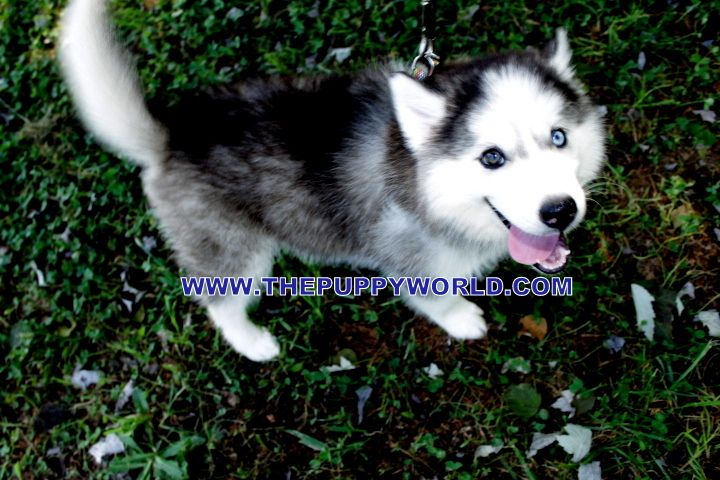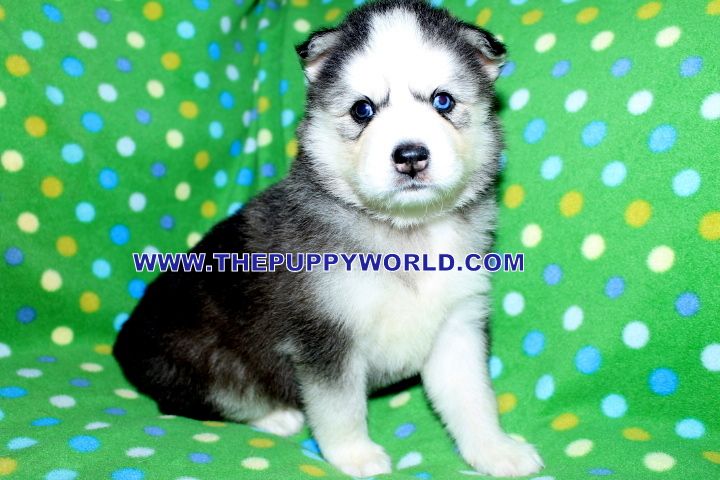 #9 Name: Paola white Siberian Husky Female
(Bi-eyes; one blue and one green eye) $550
~Found a new family in Winston salen NC 27106~