| | |
| --- | --- |
| Siberian Huskies SC | |
TO THE SIBERIAN HUSKY PAGE IN NORTH CAROLINA!

SIBERIAN HUSKY BREEDER IN NORTH CAROLINA
We place Siberian husky in loving homes throughout USA and CANADA.
~STOP~READ FIRST~
We are not disposable!
Please make sure you have
the love, time,
patience
& money to take care of us!
Our Siberian Husky top quality and absolutely gorgeous. We have been working diligently for the past few years in order to improve the quality of our siberians huskies pups. Most of our Siberian Huskies have beautiful striking blue eyes. You may also find that our siberian Husky come in a vast array of colors, including solid white, red/white, silver/white, black/white, gray/white, copper, agouti, piebald, & sable. We have wooly coat & short haired siberian husky puppies. Though beauty is important temperament!
Recipe for a great Siberian husky puppy!!!!
Take one siberian husky pup, gently roll and play until lightly pampered,
then add the following ingredients.....
1 cup patience....
1 cup understanding....
1 pinch correction....
1 cup hard work....
2 cups praise and 1-1/2 cups fun ...
blend well.
Heat with warmth of your heart until
raised or until siberian husky puppy has doubled in size.
Mix with owner until consistency is
such that owner and siberian husky puppy are one.

A lot of time is put into our siberian huskys pup before they are sent to their new parents. We thoroughly enjoy watching the siberian huskys puppies grow. Seeing the happiness and joy it brings to their new parents life makes it all worthwhile. My desire is to place our beautiful Siberian Huskies babies in their new parents hands with pride and joy in my heart.
By the time you come after your Siberian Husky it has been dewormed at 2, 4, 6 weeks & every two weeks. UTD with shots (Distemper, Parvovirus, Adenovirus 2, & Para influenza).
*Remaining balance will need to be paid in cash at time of pick up. If you need shipping you can pay the $400 plus the remaining balance for the puppy by sending us a check or money gram.
Click here to see the benefits of spaying and neutering...

---
*For a $40 fee I can now microchip your puppy when it leaves! Please let me know if you would like us to do this. Microchipping is crucial to prove ownership of your dog in the event they are lost or stolen.*
This Siberian husky Kennel is located in Sanford North Carolina about 45 minutes from Raleight NC & 40 min. from Favetille North Carolina!
The Kennel where we keep our huskies has been inspected by AKC. You can check out the AKC Kennel Check Report at the following links: AKC Check Report Page 1 & AKC Check Report Page 2. Please take a minute to check the report & ensure for yourself that our huskies are well treated!
---
Before you decide to take a puppy home, our puppies have a special message for you..
"We are forever dogs.
We are not "until you get bored with us" dogs.
We are not "until you find a girlfriend/boyfriend" dogs.
We are not "until we get old" dogs.
We are not "until you have to move" dogs.
We are not "until you get a new puppy" dogs.
We are forever dogs, and if you can't promise us forever, then we are not your dogs!"
I will personally fly with your puppy...
---
Siberian husky Puppies are sold with AKC limited reg. papers which signifies they are sold as pet only! If you would like breeding rights it's $200.00 additional (full reg.)
These Siberian Husky puppies will come with the following:
1) AKC Limited Registration Papers
2 ) Vaccination & Deworming Record (UTD on shots & deworming)
3) 4 Generation Pedigree
4) Lifetime Genetic Guarantee
5) Puppy Food Package (Diamond Puppy)
6) Harness, leash, blanket, and toy
~MomAquila~ ~Dad Aquiles~

These precious Siberian husky puppies were born Nov.11th 2014. They will be ready for a new caring home on Dec. 23rd 2014!! They can be shipped after Jenuary 6th 2015.
The deposit is $150 and it will count toward purchase price.
*NOTE that the $150 deposit is non-refundable*
#13 Name: Allie Black/White Siberianhusky Female $800
~Reserved For Thomas~
~Going To Florence, SC~
#14 Name: Austin Black/White Siberianhusky Male $800
#15 Name: Arnold Black/White Siberianhusky Male $800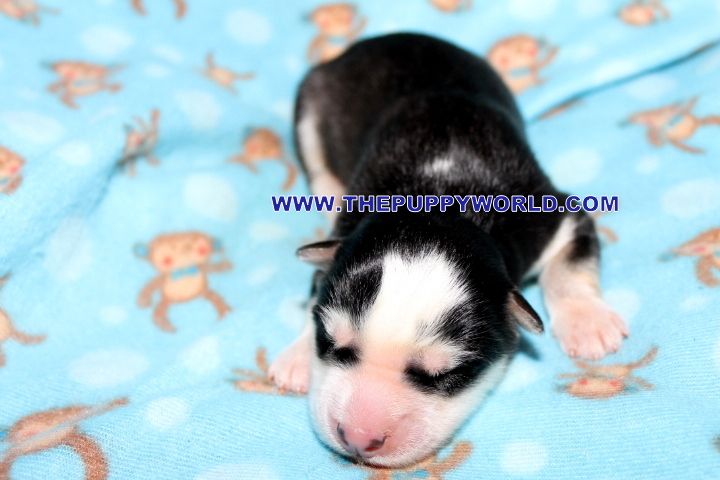 #16 Name: Andrew Black/White Siberianhusky Male $750
~Reserve for Michael~
~ Going to Pacolet, SC 29372~

#17 Name: Alan Gray/White Siberianhusky Male $750
~Reserved for Samantha Going to Greenville, SC 29615~
#18 Name: Alan Red/White Siberianhusky Male $650
~Reserved for Kirsten ~
~Going to Chesnee, SC 29323~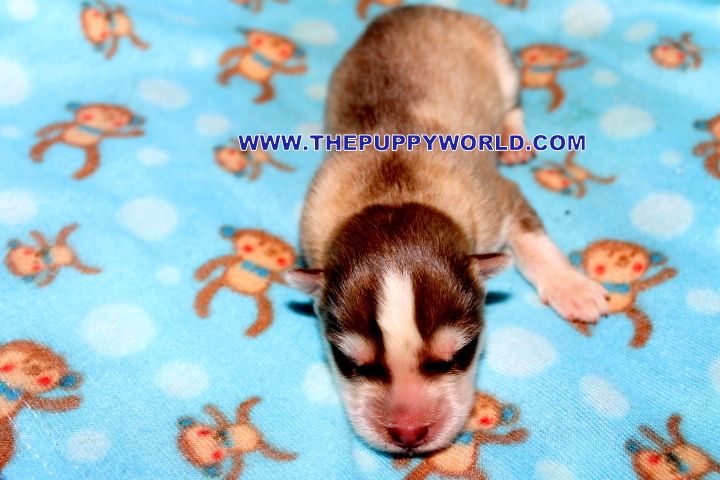 #19 Name: Alvin Red/White Siberianhusky Male $700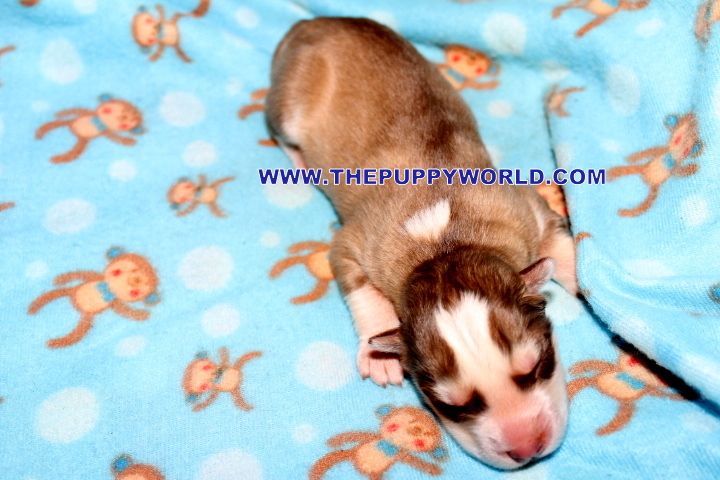 This website has been verifed by Trust Guard. Along with our email and phone #. This proofs we are not a scam and you can be secure in purchasing a puppy from us!
Click here to learn more about Siberian Huskies...
Click here to see past Siberian Huskies Puppies Photos...
Thank you for visiting The Puppy World . I hope you enjoyed the visit as much as I enjoyed having you. I hope you can see the love and pride I take in raising my Siberian husky puppies. I try to produce perfect little babies that will enjoy a long healthy life and bring you years of happiness and pleasure.
In considering Siberian Husky puppy for your family and home, we highly recommend that you do a lot of research on the sled dog breeds to make sure they are the right breed for you! Siberian Husky Puppies are a lot of hard work and need obedience training, puppy classes and a firm loving hand to learn how to grow into a well mannered adult. Siberian huskies are energetic working dogs that need to have a job to do to be happy and content. Whether it is sledding, hiking, backpacking, weight pulling, skijoring, obedience or agility competition that you involve them with, they want to be involved in it all. Huskies are awesome kid dogs. Take the time to consider your decision to own a Siberian Husky pup very carefully. and you are welcome to contact me with any questions you may have.
~There is lots of information available on our website to help you raise your siberian husky puppy well.~
Different Coat Colors, Coat Patterns & Eye Colors of Siberian Huskies
We always prefer for you to pick up your little Siberian husky in person, but we realize that is not always possible. If that's the case, I will personally delivered Siberian Huskies puppies to: Atlanta, GA, Athens, GA, Augusta, GA, Marietta GA, Roswell, GA, Dalton, GA, Columbus, GA, Macon, GA ~Knoxville, TN, Johnson City, TN, Bristl, TN, Kingsport, TN, Chatanooga, TN, Nashville, TN, Murfreesboro, TN,~Raleigh, NC, Greensboro, NC, Durham, NC, Fayetteville, NC, Sanford, NC, Wilmington, NC, Concord, NC, Charlotte, NC, Gastonia, NC, Monroe, NC, High Point, NC, Hickory, NC, Hendersonville, NC, Asheville, NC, Morganton, NC, Stateville, NC, Winston Salem, NC. ~ Columbia, SC, Greenville, SC, Greenwood, SC, Newberry, SC, Laurens, SC, Anderson, SC, Rockhill, SC, Simpsonville, SC Charleston, NC, ,~ and more! I will deliver the siberian husky, puppy to your front door ($1.00 a mile). The delivery cost must be paid before I drive the pup to your home. We are located in Campobello SC 20 min from Spartanburg SC & Concord NC, 20 min from Charlotte, NC.
Siberian husky, siberian husky in charlotte, NC. Siberian husky puppies, Siberian husky puppies in NC, siberian husky, in SC. Siberian husky puppies in SC, Siberian husky puppies in GA, Siberian husky puppies in TN, Siberian husky puppy, Siberian husky puppy in NC, Siberian husky puppy in SC, Siberian husky puppy in TN, Siberian husky puppy in GA, breeder Siberian husky, breeder Siberian husky in NC, breeder Siberian husky in SC, breeder Siberian husky in TN, breeder Siberian husky in GA, Siberian husky in NC, Siberian husky in SC, Siberian husky in GA, Siberian husky in TN..
Last Updated on Wednesday, 19 November 2014 21:16